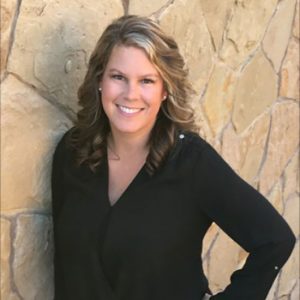 Dr. Kelly Blair was born and raised in Denton, Texas where she attended the University of North Texas. Upon graduating, she was accepted into the dental program at the University of Texas Health Science Center at San Antonio. In 2005, Dr. Blair received her Doctor of Dental Surgery degree and moved to Washington State where her husband was stationed with United States Army.
During their military assignments, Dr. Blair gained valuable knowledge and experience from working in dental offices in support of her local communities. After assignments in Washington, North Carolina and Oklahoma, she and her husband decided to move back to Texas to be near family and to raise their two kids, Elias and Sydney.
Now with her own practice, Dr. Blair regularly attends numerous continuing education programs to enhance her dental proficiency. She has been certified in placing and restoring dental implants and is accredited and able to sedate patients both orally and intravenously (IV). Dr. Blair is also certified in Six Month Smiles® and Invisalign® orthodontics, enabling her to help patients achieve a more harmonious and aesthetic smile.
Dr. Blair is an active member of several professional organizations, including the:
Dr. Blair's favorite part of dentistry is interacting with her patients and helping them achieve healthy and beautiful smiles. She enjoys working with patients to create the smile that they have always dreamed of. Knowing that going to the dentist is often one of the biggest fears people have, Dr. Blair strives to educate her patients and communicate each step of the way during treatment so they are always comfortable. When a patient can truly smile with confidence, it affects their outlook on life in a very positive way. Thus, she believes the key to a healthy smile is a relationship based on mutual trust and respect between her and her patients.
Outside of her devotion to dentistry, Dr. Blair enjoys running and traveling in her spare time. Living in Fort Worth now, she enjoys the charm that the city has to offer — from the Tex-Mex food to the running trails, the stockyards and the most friendly and courteous people — she loves that she can call this city home. Dr. Blair returns the kindness and respect she receives from her community by bringing confidence back to her patients through healthy smiles.
Meet Our Team
At our office, everyone has a good relationship with all our patients so everyone feels like a big happy family. Our main goal is to make sure everyone enjoys themselves and leaves happy. Do not be afraid to talk to our dentist about ways that we can help you feel more comfortable. Even Dr. David White, our traveling oral surgeon, will work with Dr. Kelly Blair and our team to ensure that you achieve your best smile. Call 817-737-5155 to speak to a team member about your next visit!
Check back soon for new biographies of our amazing team members!